Lessons from cute baby-bathing (semi-viral) videos:
There is no doubt what the power of an image can do when it comes to promoting your nonprofit/charity organisation's work and fundraising for your cause. There is a lot of research available on how the images and videos and other visually appealing content can help you reach more potential donors.
But still a lot of organisations struggle with what content to share about their work. Recently I came across a wonderful project that helped physically and mentally challenged children in the developing world. Despite the exceptional work this small nonprofit was doing, they were not sharing the right content with their followers and fans. Which means the chances of their fans and followers of turning into donating members were also less.
Traditionally, outreach gives, at best, a video with people talking about what it is the organisation does. I'm sure you've seen many of these.
Luckily, there are many other ways, such as this wonderful video:
This video is a perfect example of powerful digital storytelling not focusing on the organisation, but on what it does. The video does not show an organisation or tell the story from the organisation's point of view, it simply shows what they do: a new born baby is being gently bathed by a nurse.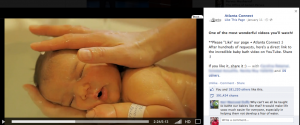 The video was posted a few months ago, yet it still manages to create waves and continues to touch hearts. The most important lesson to learn here is, even though giving a bath to the little baby is in fact a very small part of care compared to the rest of the prenatal and postnatal care the mother and child get at any healthcare facility, but it is an excellent choice to showcase how they deal with their customers/patients at that facility.
The content you share should have the following most important qualities:
1- A powerful and eye catching title/caption
2- A beautiful aspect of your work which has the ability to touch people's emotions
3- Audio that supports the content in a pleasing way
All it needed was a DONATE button!
The video was shared on Facebook by Atlanta Connect  and got more likes and comments than the page itself! The video got 189,078 likes and 414,983 shares on the page. This video uploaded by AmazingFun GR has over 13,000 views on Youtube. Had this been a call to donate for a specific cause, I have no doubt in believing that it would have been a huge fundraising success.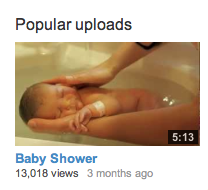 Similarly, you, as a nonprofit, can pick one strong component of the successes you have achieved, make it into a compact story and share it with your existing followers and fans on your social media channels and outlets. The more powerful the content you share, the less talking and convincing you would have to do in order to turn your followers and fans into actual donors.
Happy online fundraising and stay tuned for more!