Did you miss our Nonprofit Webinar about designing successful online campaigns? Don't worry. Here is a summary:
Thinking of setting up or designing an online campaign for your nonprofit? In this article, I will share with you 3 key tactics of a successful online campaign.
I am going to use the example of the Women Weave the Web-WWW campaign from a nonprofit social media enterprise called World Pulse. World Pulse has a community of over 60,000 community women leaders and allies from more than 190 countries. The organization provides an online platform for its community to share their stories and amplifies their voice by connecting them to international platforms and media houses.
But let's get back to your online campaign. Assuming that you have found the perfect manager and team to plan and implement your campaign, what should be the key elements of a successful online campaign? If you have not yet found the perfect manager and team, you might want to take a look here.
After you form your team, you need to start designing your campaign. Designing an online campaign is hard work, as you never know how much interaction, engagement or reaction you will get from the community you are targeting. Getting engagement gets more challenging when your campaign requires crowd-sourcing stories from community members. When designing online campaigns, many nonprofits only focus on their goal, and do not link it to how it will speak to their audiences.
An Online Campaign Example:
Women Weave the Web Campaign of a small organisation World Pulse, received over 590 stories submitted to their online platform from approximately 71 countries. The campaign called on its community members to submit success stories about using the Internet to transform their communities and the world.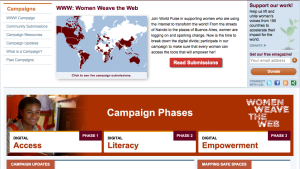 Let us take a look at what makes their campaign successful how they did it:
1- Resonance or Relevance: The message and call-to-action of your online campaign must have the ability to speak to your audiences or community. Sure, you are working on a very important cause and everyone should know about it and react to it, but unfortunately things don't always go that way. World Pulse analyzed where the interest of their community lies and designed the campaign around the needs of their community. It was a campaign that many of their members and followers could relate to and add value to. This is one of the ways to tap into the wisdom of your online community, no matter what online platform you are using.
It is important that you keep the interests of your audience in mind when designing a campaign. Make sure you design and convey your campaign message in a way that makes others want to be a part of it. If your message does not resonate with your audience, they are less likely to be interested in it.
2- Competition or Challenge: People love to be part of competitions. People love to be challenged.

One way to make your campaign a success is design it in such a way that the participants get the opportunity to challenge themselves. In World Pulse's campaign, the community members want to highlight the good work they are doing in their respective communities. They are inadvertently competing in doing 'good' and sharing their results. At the same time, they are also learning from each other's initiatives and giving each other encouraging advice and feedback. It is a win-win situation for the community.
As those stories are shared and highlighted over the online communication channels of the organization, more and more women, who were previously silent observers, are getting the inspiration to write and share their own experiences!
3- Reward or Incentive: This one is tricky. Many might not agree with this technique, but it has worked wonders for the Women Weave the Web campaign. Having something to look forward to toward the end of the campaign increases the chances of getting more engagement.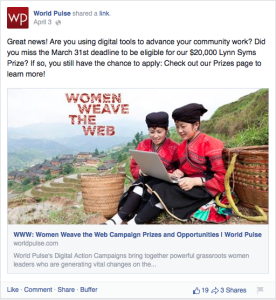 One of the incentives in the World Pulse campaign is money. Eligible members, those who have posted three or more stories, have to compete through their submissions. But that is not a must in every online campaign. Any small incentive or reward can play a huge part in boosting the enthusiasm of your community members for your campaign. The incentive can be as simple as highlighting or featuring the best or most active 'contributor' on your organization's official blog or Facebook page. People love to share stories they feature in on their own social networks and help promote your work in that way.
World Pulse used a combination of these techniques and their community has grown exponentially in these past months. Depending on the kind of work your nonprofit does, try to incorporate these techniques into your online campaigns. It will increase their effectiveness.
Let me know how it goes.